So I haven't updated everyone for a while, truth be known I have been waiting for the results of the FightFit Training Camp program, dealing with the logistical nightmare that is school holidays and have been a bit unwell.
The last fortnight has not been blessed with freakish, day after day training sessions as there has been up until now. I decided to become an eager participant for my workplace's football team and being that it's an annual event I certainly didn't want to over train or injure myself prior to the match - missing this match was not an option. So the training tapered off because of that and as previously mentioned, school holiday logistics meant I needed to work from home and home is a long way from the gym.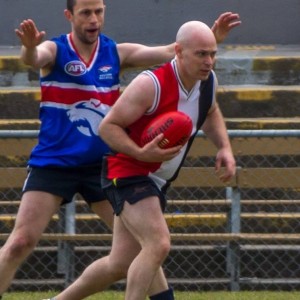 Thankfully, I got to run out on the ground in a veiled desperate attempt to relive my glory days on the football field, resulting in a win for the mighty "SEEK Saints" and I've navigated through school holidays successfully. There has been less training as a result, but this has been a blessing in disguise as it's given my body a chance to heal from the sheer amount of training I've been putting away. My shoulder niggles have settled as to have my knuckle bruising, going from "ouchy ouchy", to just "ouchy" (which is good in my book).
It's also given me time to reflect on how far I've come, which only makes me excited for the next 3 weeks. I even knocked out my first 5km run for a few years and other than some calf tightness I still had a reasonable amount of gas left in the tank. I could not do that 10 weeks ago.
The body shape has definitely changed, I look slimmer, feel slimmer and continue to have bounce in my step. Am I at where I wanted to be at this stage of the journey? Yes, I think so. Still 3 weeks to go and a lot can be achieved in just 3 weeks. From here I just plan on hitting the training as hard as I can and hope that a spew bucket is not required!
And the results of my training camp? Well, first things first, I didn't pass. Strictly speaking, I needed to complete ALL components of the camp. However, given that my first day of this 12 week journey happened to be first day of Training Camp, comparing where I was then to where I am now, I've come a loooooong way.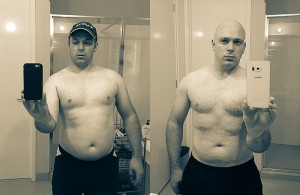 On day one, I had no technique, didn't know how to throw a punch, with either hand, didn't know how to block, slip, weave or use my feet. But strangely enough, it was all the technique with the gloves and pads, and the fitness around my bag boxing work, where I actually passed with flying colors. It was only the last 30 minutes of the 90 minute session where I fell down, and to be honest, it was where I thought I was going to fail.
The structure of the camp sessions are always 90 minutes and start with an hour of full on technique and solid bag work and at the end of that 1 hour, you are well and truly spent, but need to back it up for the core exercise component. These consist of:
100 burpees
30 pushups
30 commandos
50 alternating situps (opposite elbow to knee)
150 cycle crunches
2 minute plank hold (prone hold)
So I knocked out the 100 burpees (on day 1, I could only manage 20), but I had already spent all my petrol tickets in the first hour and the rest of the core exercises were a struggle and couldn't complete all reps. I ended up doing the following:
100 burpees
15 pushups
18 commandos
23 alternating situps
80 cycle crunches
90 second plank hold
And what did the other work look like? Well check this monster out!
3 minutes skipping with last minute using high knees - done!
2x 3 minutes of shadow boxing showing form and technique - done!
3x 3 minute rounds on the bag showing good footwork, defence, punching skills and fitness - done!
3x 1 minute rounds on the bag against an opponent on the opposite side - done!
6x 20 second work on the bag at 100% effort, 40 seconds rest between each - done!
Technique culminating up to Jab, cross, left hook, right cross - done!
Technique culminating up to Jab, cross, left uppercut, right cross, left hook, right cross - done!
Technique culminating up to right uppercut, left hook, right cross, left hook - done!
Technique culminating up to right cross, left rip, right cross, left hook, right cross - done!
...and a whole tonne of weaving, slipping and blocking combined with the above combinations - done!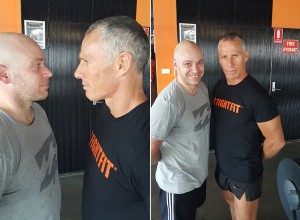 Am I disappointed I didn't pass? Ummm, yes and no. Ideally I would have liked to have able to have summoned the luck of the Irish and pass all tests, even with a struggle, but it wasn't to be. But I am happy when I consider how far I have come in 8 weeks with all of this.
For the next 3 weeks I'll just be focused on putting in as much training as I can during the week, and when I'm not training at the gym, I plan to get out and do something. Either 5km lunchtime runs or some park work with a football with work colleagues. All the while I'm continuing to eat right and I'm now including magnesium, BCAA (Branch Chain Amino Acids) and Electrolytes during my workouts.
So let's see how far I can get!
Between now and the completion of this journey I won't be doing the weekly measurement updates, I'll just do one last one at the end, along with my final Dexa scan. I'll also have some more video coming, so stay tuned!
Till then, box on!