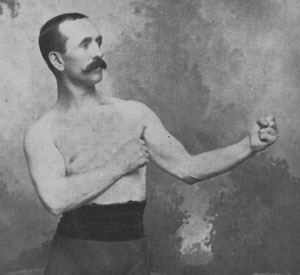 Self preservation aside, the training is a pretty obvious component of the next 8 weeks. As the name of this site would suggest, the route to physical fitness lay in the Gentleman's Art of Boxing. I personally felt that there was a very technique and technical approach to boxing in general after having a couple of introductory classes. It's obviously high intensity and in the hands of skilled boxing trainer, there's no doubt you should end up on your back by the end of it and I felt that was going to give me the best chance of achieving my body fat goals by the end of the 8 weeks. And I also learn how to kick ass handle myself if I find myself in a hairy situation. Always good to know I've got my own back!
This is where I introduce the guys & gals at Fight Fit Boxing Centre in South Melbourne, Victoria. I've been to a couple of "Boxing Centre's" and this one just felt right. Handy location, great people, experienced people and they're all on board for this journey and will pull out all the stops to make sure I achieve my goals. Fight Fit will also be posting updates from time to time on my journey.
So what will my typical training schedule look like? Generally, it'll consist of between 2 & 3 one-on-one training sessions with a qualified boxing trainer per week, in this case it will be Fight Fit's resident Commando, Dave Trotter , who has had both local and international MMA fights (gulp). When I can't train with a trainer, I will be substituting that with one of Fight Fit's full-on classes. All sessions will run for 1 hour and I've been unequivocally told that I will vomit and possibly want to run out of the establishment screaming like a little girl. So this is no doubt going to test my mental strength to hang in there when the going get's tough.
In addition to these wonderful sessions, there will be a fortnightly 90 minute session conducted on a Saturday as a part of Fight Fit's Training Camp run by Paul Fyfield, a well recognised Kickboxing trainer.
I really don't know which gentleman is scarier, but I've been guaranteed that if it's results I want, these are the guys to deliver. No Pain, No Gain has never been a phrase that's rung truer.
Is it too late to pull out now?