The last 3 or 4 days have been stressful and painful and I seemingly only have myself to blame. During my last one-on-one session with Trainer Dave, I was starting to open up a bit more and become a bit more fluid with my technique that is being drilled in to me (and I have no doubt it's for good reason).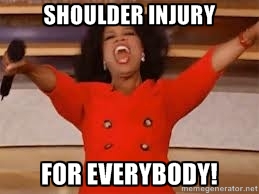 Wild enthusiasm eventually makes you come off second best however and this session was no exception as a sharp pain kicked me in my right shoulder after one of the many marriages between glove and boxing bag for the day. I did my best to try and ignore it and battled on through the pain. So for the next few days and with good support from one of the best Physio's in the business, Rob Brandham (St Kilda Rd Sports & Physiotherapy), we put a strategy in place to ensure no further damage is done, along with a course of anti-inflammatory pills.
It all seemed to do the trick it seems, roll on my Thursday one-one one session and things were looking good. I was still fatiguing pretty badly though in the shoulders from the workout, which during this session was working in weaves with punch combinations.
I'm not sure if it's just me, but I think what I find the most frustrating is the mental fatigue, which makes you end up doing simple punch combinations ass-backwards. It's probably my number one pet hate and has been with me since the start. Effectively with the physical fatigue hitting hard late in my sessions, my concentration is all out of whack and I basically lose the plot and forget what I'm meant to be doing and in what order. Who said this wasn't a mentally challenging sport? I can tell you one thing is for sure, if it's not at least 90% mental fitness that get's you through a hard session, or even a sparring session or a fight, then I would be highly surprised. It's a drain on the brain, no two ways about it.
So now we arrive at Day 15, this marks the start of Week 3 and is met abruptly by another physically and mentally shattering Fight Fit Training Camp session with Paul Fyfield. My first session just over a fortnight ago was a definite wake up call. Out of my depth in so many areas and I was hoping that this time I was going in with some kind of form and the right mental state.
I'm happy to say that I was way more prepared than the first session. For instance, now, I can actually use a skipping rope without blowing out a calf or two. I can string a combo of punches together with a duck and weave. But this session really had a focus on bag work and we worked in groups of 2 and then 3. I happened to be partnered up with a great pair of Rob and Charlene. Very nice people, certainly less awkward than my pairing the first week and the sessions were generally made up of interval bag work. 20 seconds as hard and as fast as you can on the bag, followed by 40 seconds off, repeating that 6 times. And then there was trying to out punch your partner on the other side of the bag for a full minute, multiplied by 3 rounds. Rob hits like the proverbial mule, he made me have my work cut out for me.
Trainer Paul walks past the bag at the end of the first session of "Out punch your partner", "Did you win Brandon?", to which I replied cheekily, "Of course I did". I began to follow that up with a retraction and in the vein of good sportsmanship was going to offer that it was a draw. Paul cut me off and didn't want to hear that, "That's good mate, you won that round, now do it again! I don't want to hear you say your partner won.". And so off Rob and I went again for another 2 rounds and we well and truly spent all our tickets by the end.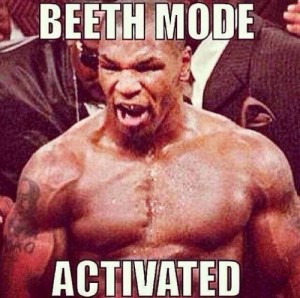 Next we moved on to a new group of 3 for some focus pad work. At this stage though, after coming off some pretty heavy group bag work, my left shoulder started to play up (yep, another overzealous hook did the trick...again) and I was paired with a couple of relatively experienced guys in Paul and Evis. My striking was fine, my pad holding was another matter. Both men punched with ferocity and my dicky left shoulder gave way trying to catch their shots. Bugger. I have been doing a fair bit of pad work in my one-on-one sessions and was hoping to captalise on the inroaads I've made here and go all "Beast Mode". Sadly it was not to be and after this pad work session, we rolled into the core exersises we need to get through to pass this course.
Cycle crunches, alternating situps on an already fatigued body was taking it's toll. I was spotted by the trainer being down the back of the gym and before I knew it I was shamed into moving to front and centre. Oh the pain. I could barely get through the pushups, burpees and commandos with the shoulder but tried to make a valiant effort without my body going one way and my shoulder the other. Whilst holding the always "fun" prone hold at the end of the session, I'd noticed that we'd been working the bags and the pads so much this session, the skin was coming off my knuckles. Yep, that's dedication for you!
The session ended with Paul highlighting that if what we're doing doesn't seem achievable, it can be done. Personally, I'll have to start racking up some frequent flier points with Trainer Dave and up the number of sessions I'm doing so that I am on track fitness and technique wise as it will be way too hard to play catchup if I slip now.
Until next time, Box on!